HBS Board 2017-2018

Officers
Anni Eason, President: info@houstonbluessociety.org & ysb@houstonbluessociety.org
Angela Escue, Vice President: info@houstonbluessociety.org
Beth Arlington, Treasurer: treasurer@houstonbluessociety.org
Melanie Hall , Secretary
Patrick Harrington, Parliamentarian: bluesmerch@houstonbluessociety.org

Directors
Odd 2 Year:
Ron Fontenot: webmaster@houstonbluessociety.org
Shironda White

Even 2 Year
Ivan "Koop" Kuper
Tom Conner

One Year Director
Ricky Ocallaghan

Appointed Directors
Jack Henderson
Graham Speake
​ The Houston Blues Society proudly recognizes the following HBS Life members:
​
Jeff Abrams* . Donovan Allen . Sandra Berger . Ed "Poppa" Berry* . Boyd Bluestein . Art Dietz* Don Derouin* (deceased) . Jack Henderson* . Johnnie Henderson (deceased) . Steve Howell . Ken Dennard . Paula & Phillip LaGrappe . Terry McClurg . Thomas McLendon* . Erin Norris . Larry Nunnery (deceased) . Gail Singer & Mark McGrath . Ron Parks . Jomonica Phoenix* . Kyle Soltis . Charles K. White* . Val & Glyn Westcott . Russell Wolfe . Gary Huntsman (deceased) . Elbert Lano "Pops" Stewart (deceased) . Richard Young . Russell Wolfe . Gary Huntsman (deceased) . Elbert Lano "Pops" Stewart (deceased) . Linda Kirschbaum* . Ann Paget* . Genie Mims* . Jo & James Vaughn* . Nuri Nuri* . James & Colleen Nagel* . Buddy Love* . Nancy McCafee* . Duane Bradley

* (honorary)
---
---THE HOUSTON BLUES SOCIETY IS A NON-PROFIT 501C(3) MEMBERSHIP ORGANIZATION ​---
What we do!
~ Manage, Grow & Appropriate Jimmy T-99 Nelson Scholarship
~ Blues 2.0 -First of its kind in the nation : For Credit -9 week mini course Clear Creek School District partnership
~ Hopkins House Project: Facelift & minor repair project for aging musicians.
~ VARIOUS Partnerships in Houston: Karbach, Robert Garner Firefighter Foundation Pub Crawls & Levy Park Conservancy, as well as others.
~ Keeping Blues Music alive by putting BLUES MUSIC live, in front of people who would not normally see it!

PUT OUT A WEEKLY BLUES BLAST VIA EMAIL WITH A VIEW OF THE BLUES SCENE *
KEEP CURRENT EXTENSIVE BLUES MUSIC CALENDAR*
SPONSOR A BAND AND SOLO/DUO ACT TO REPRESENT HOUSTON IN THE INTERNATIONAL BLUES CHALLENGE IN MEMPHIS EACH YEAR*
SUPPORT "BLUES IN THE SCHOOLS" AT LOCAL SCHOOLS *
HOST A MONTHLY JAM THE LAST THURSDAY OF EACH MONTH AT THE BIG EASY SOCIAL & PLEASURE CLUB ON KIRBY DRIVE *
HELP HOST A YOUTH JAM
AND MUCH MORE!

---
---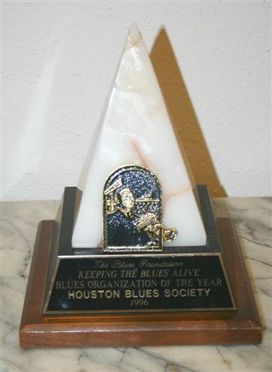 In 1996, the Houston Blues Society won the prestigious Keeping the Blues Alive
​Organization of the Year award.

We currently have the largest membership in our history!

We have the talent, the drive, the passion and the respect for the
​that can lead us to win this award again.

With your help...let's do this!
---
---