HBS Board 2017-2018

Officers
Anni Eason, President
Angela Escue, Vice President
Beth Arlington, Treasurer
Melanie Hall, Secretary
Patrick Harrington, Parliamentarian

Directors
Odd 2 Year:
Shironda White
Ivan Koop Kuper

Even 2 Year
Tom Conner

Appointed Directors
Jack Henderson
Graham Speake
​ The Houston Blues Society proudly recognizes the following HBS Life members:
​
Jeff Abrams* . Donovan Allen . Sandra Berger . Ed "Poppa" Berry* . Boyd Bluestein . Art Dietz* Don Derouin* (deceased) . Jack Henderson* . Johnnie Henderson (deceased) . Steve Howell . Ken Dennard . Paula & Phillip LaGrappe . Terry McClurg . Thomas McLendon* . Erin Norris . Larry Nunnery (deceased) . Gail Singer & Mark McGrath . Ron Parks . Jomonica Phoenix* . Kyle Soltis . Charles K. White* . Val & Glyn Westcott . Russell Wolfe . Gary Huntsman (deceased) . Elbert Lano "Pops" Stewart (deceased) . Richard Young . Russell Wolfe . Gary Huntsman (deceased) . Elbert Lano "Pops" Stewart (deceased) . Linda Kirschbaum* . Ann Paget* . Genie Mims* . Jo & James Vaughn* . Nuri Nuri* . James & Colleen Nagel* . Buddy Love* . Nancy McCafee* . Duane Bradley

* (honorary)
---
---THE HOUSTON BLUES SOCIETY IS A NON-PROFIT 501C(3) MEMBERSHIP ORGANIZATION ​---
What we do!
​• YEARLY COMMUNITY SERVICE PROJECTS TO ASSIST ELDERLY BLUES MUSCIANS
• PARTNER WITH OTHER 501C3 ORGANIZATIONS TO RAISE MONEY AT CHARITY EVENTS (EX: ROBERT GARNER FIREFIGHTER FOUNDATION/ HOUSTON BLUES MUSEUM/ ETC.)
• HELPING TO KEEP THE BLUES ALIVE IN THE HOUSTON AREA BY WORKING TO SECURE MUSICAL OIPPORTUNITIES
• WEEKLY BLUES BLAST VIA EMAIL WITH A VIEW OF THE BLUES SCENE.
• PLACING MUSICIANS & HOSTING WEEKLY LOVE STREET BLUES SHOW AS WELL AS SOME OTHER SHOWS AROUND TOWN
• KEEPING UP HBS EXTENSIVE BLUES MUSIC CALENDAR FOR THE GENERAL PUBLIC
• SPONSOR A BAND/YOUTH ACT/SOLO ACT TO REPRESENT HOUSTON INTL. BLUES CHALLENGE- MEMPHIS
• GROW & AWARD THE JIMMY "T-99" SCHOLARSHIP YOUTH BLUES MUSICIANS 21 & UNDER
• 2016 -SUPPORTED THE FIRST OF ITS KIND IN THE NATION - FOR CREDIT CLASS AT A LOCAL MIDDLE SCHOOL: Brian Kimberly & HBS BLUES 2.0
• SUPPORT "BLUES IN THE SCHOOLS" WITH LOCAL AND VISITING MUSICIANS AT LOCAL SCHOOLS
• HOSTING A YOUTH JAM ONCE A MONTH AND FOSTERING THE LOCAL YOUTH THAT ARE INTERESTED IN BLUES MUSIC.
• HOST A MONTHLY JAM THE LAST THURSDAY OF EACH MONTH AT THE BIG EASY ON KIRBY DRIVE HOUSTON, TEXAS
• SUPPORT BLUES MUSICIAN BENEFITS WHEN POSSIBLE BY PROVIDING VOLUNTEERS, ETC
---
---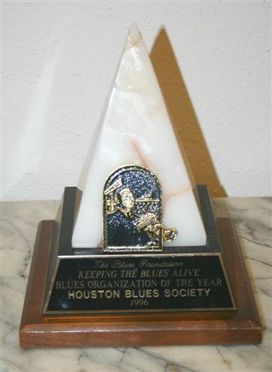 In 1996, the Houston Blues Society won the prestigious Keeping the Blues Alive
​Organization of the Year award.

We currently have the largest membership in our history!

We have the talent, the drive, the passion and the respect for the
​that can lead us to win this award again.

With your help...let's do this!
---
---