HBS Board 2016-2017
​
Officers
Anni Eason, President
David Shapiro, Vice President
Linda Kelly Castilla, Treasurer
Paula Metzler, Secretary
Patrick Harrington, Parliamentarian

Directors
Odd 2 Year:​
Ron Fontenot
Ricky Ocallaghan

​Even 2 Year:
Beryl Kaminsky

Appointed Directors
Jack Henderson
James Nagel
​Beth Arlington
​ The Houston Blues Society proudly recognizes the following HBS Life members:
​
Jeff Abrams* . Donovan Allen . Sandra Berger . Ed "Poppa" Berry* . Boyd Bluestein . Art Dietz* Don Derouin* (deceased) . Jack Henderson* . Johnnie Henderson (deceased) . Steve Howell . Ken Dennard . Paula & Phillip LaGrappe . Terry McClurg . Thomas McLendon* . Erin Norris . Larry Nunnery (deceased) . Gail Singer & Mark McGrath . Ron Parks . Jomonica Phoenix* . Kyle Soltis . Charles K. White* . Val & Glyn Westcott . Russell Wolfe . Gary Huntsman (deceased) . Elbert Lano "Pops" Stewart (deceased)

* (honorary)
---
The Houston Blues Society is a non-profit 501c(3) membership organization
What we do:
Weekly Blues Blast via email with a view of the Blues scene and our extensive Blues music calendar
Sponsor a band and solo/duo act to represent Houston in the International Blues Challenge in Memphis each year
Offer the Jimmy "T-99" Scholarship for promising blues musician students
Support "Blues in the Schools" with local and visiting musicians at local schools and youth groups
Host a monthly jam the last Thursday of each month at The Big Easy Social & Pleasure Club on Kirby Drive . . .
and much more!
______________
We'd love to hear from you!
info@houstonbluessociety.org
Our Bylaws are available for viewing by request.
Houston Blues Society
P. O. Box 272868
Houston, Texas 77277
---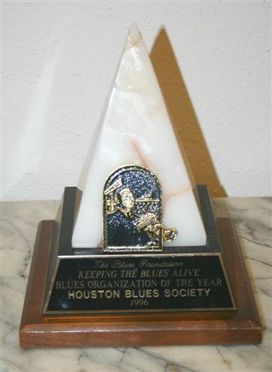 In 1996, the Houston Blues Society won the prestigious Keeping the Blues Alive
​Organization of the Year award.

We currently have the largest membership in our history!

We have the talent, the drive, the passion and the respect for the
​that can lead us to win this award again.

With your help...let's do this!
---
---